At Saint-Léger-les-Mélèzes in Champsaur, I enjoy my holidays in Hautes-Alpes at any season ...
St Léger les Mélèzes, the station with 3 labels: Green resort and snow village, tourist town, starry village and flower village.St Leger les Mélèzes:
the "Mélèze" (Larch) is the emblematic tree of the mountain range
As a mountain tree, it grows between 1200 and 2400 m altitude.The Larch is the only conifer to lose its needles in the fall! As with hardwood its needles blush yellow and red and turn brown before falling. It is the only conifer in Europe to do so! Its name comes from a native of the Dauphine word « Mel »; meaning: Honey.
About history and local heritage ...
Like most villages in the valley, the foundation of St Léger might lie around the year 1000. In the year 980, St Mayeul, Abbot of Cluny, (very important character of the church at the time) is stopped close to our village by the Saracens. It is during this period that the construction of castles begins. The village is still called « Le Serre » ( which means « small hill » in french) on top of which a fortified house was built. The castle of Saint-Léger is created by the monks of Cluny around the year 1200. It's known to have housed members of the resistance during the last war. Listed as a historical monument in 1996, the castle and its surroundings are now protected to guarantee the respect for the integrity of the testimony of local history. In 1335 Saint-Léger counts only 77 families. The church was built in place of an old chapel and an old bell tower in 1870. From 1853 to 1899, about 2000 enumerated people left our beautiful "Champsaur"valley, etymologically "Champs d'Or" (Golden Fields), to go to North America (California, Louisianna), South America, Canada (Ottawa and Montreal), Australia (Sydney and Melbourne). Each year their offspring still come back to visit the area their ancesters lived in.
The ski resort was created in 1966.
Things to see and do in Spring
Come and witness the revival of the larch tree with its neon green spines and its bright red flowers; the awakening of nature; the mushrooms…
Things to see and do in Summer
In summer it's as if you were in the Provence; the lavender scent around our pool and lively discussions in the petanque area! ... The Champsaur valley and the Ecrins National Parc will show you the return to pure Nature along its hiking trails on foot, on horseback, on a mountain bike or while paragliding! Lakes and rivers will cool you off!
You do not like to move? That's what the holidays are also good for, right?! Comfortable deckchairs await you at the pool. In the evening on the terrace by the barbecue, or in our dining room with panoramic view, come share our delightful dishes, combining mountain traditions and flavors of the south or elsewhere, for your delight.

The guest house « La Coustille » and its pool, perfectly integrated in the beautiful landscape of the Hautes-Alpes.
Summer Activities
Discovery Walks - Hiking with mountain-guide - Hiking - Horseback riding - Mountain Trail - Trekking - canyoning - Climbing - Paragliding - Mountain biking - downhill mountain biking - Horseback riding - Rafting - Quad - Moto Trial - Golf 18 holes - Fitness trail - Fishing in the river - Tennis - Tyroliene - Acrobranche - Forest and leisure centers - Airplane tours - ULM - Parachute jumping- Ballooning - Glider flying…
Autumn: the season when the mountain putts on its golden coat and rubies.
Our home, chalet style, when the cold season is looming and we are thinking of you, how about a little comfort and softness? Our universe with plush pillows, soft plaids is cocooning. You will encounter truly passionate mushroom seekers, Evenings telling tales .... And the price of the stay will be Softer too…
Spring or Fall Activities
Mushroom picking (morel mushrooms, chanterelles, rosé ...) - Approach the local wildlife (marmots, ibex, chamois ...) - Museum "Refuge of animals" - Discover the Flora in the Ecrins National Park - Discover waterfalls and lakes in the Mountains - Horseback riding - Hiking - Mountain Biking - Quad - Paragliding - 18-holes Golf nearby…
Things to see and do in Winter
In winter, with snow, you engage in the pleasures of skiing: downhill or cross country skiing, dog sledding, ice skating, ... or you hike on snowshoes in beautiful landscapes !! When you return, you will enjoy the wellness of our Spa area and relax in the Jacuzzi and Sauna before a massage or Shiatsu!
Skiing and winter sports going downhill « tout schuss »!
The resort of St Léger les Mélèzes has been equipped with new snow cannons and an artificial lake to feed them.
All practical information on our ski resort:
Altitude of the resort 1260 mSki area: 1260 m to 2001 m.
Ski area consists of 16 slopes: 8 green, 2 blue, 5 red, 1 black.
Activities: Alpine skiing, X-country Skiing, Snowshoeing, Sledding, Snow park, Dog sledding, Jöring skiing.
Distance ro Resort center: 500 meters.
Skiing school Distance: 500 meters.
Skiset-hire shop Distance: 500 meters.
Ideally located at the edge of the village, close to all amenities, bars and restaurants, the B & B « La Coustille » will be the perfect « «pied-a-terre » for holidays in winter time with family or friends.
Here, skiers will enjoy being next to the ski lifts and to have access to the slopes nearby.
Winter Activities
Alpine Skiing - Snowboarding - Snowblade  - Snowshoe trekking - Track Luge - Cross Country Skiing - Handiski - Huskies - Horse-drawn carriage - Ski lessons ESF - Snow garden for children - Ski Joëring - Snowmobiling - Skating rink - Paragliding - Tyrolean
How beautiful the mountains are!... In any season enjoy the sauna and do not forget your bathing suit, in winter you can relax in the jacuzzi, in the summer in the outside heated pool.
Between us and you, everything happens naturally, we will be complicit in your well being.
Annie and Marcus Verhoeven Who are we?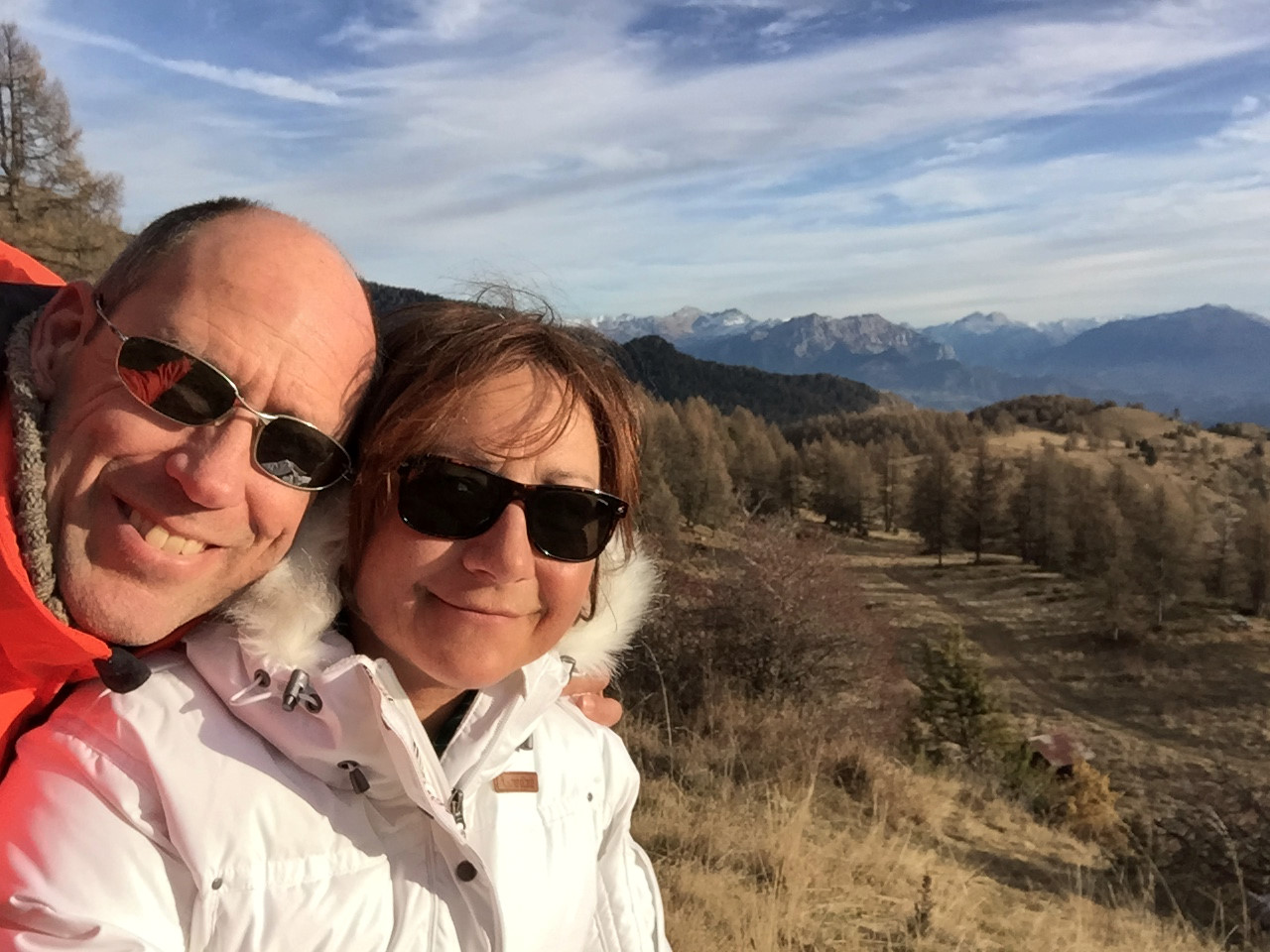 From Franco-Dutch origin, we received our first customers in 2003, in our guest rooms "Villa des Clematites" at the edge of the Champagne region east of Paris.
In early 2015, we fell in love with the B & B "La Coustille" in the beautiful Champsaur mountain range, in the Hautes Alpes.
Our philosophy: Receive our guests like friends and make you feel at home with us; make you discover the surroundings with its multiple aspects. We like to "walk the extra mile" so our guests are comfortable with us...We are happy to welcome you home and share with you our passion for the Alps, nature, cooking, outdoor activities ... To make your stay pleasant, we offer you all the information on cultural or sports activities; the beautiful « Champsaur »Valley, The  »Parc Des Ecrins" National Parc and its surroundings.
We have two adorable cats, that's why we cannot accept any other cats or dogs in any of our rooms.
If you are allergic to cats, please take your precautions!